Rhino Linings
Vehicle Protection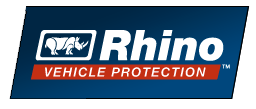 Cody Paint and Body is your local Rhino Linings applicator for Cody, Powell, Meeteetsee, Worland, Greybull, Thermopolis, the Big Horn Basin and northern Wyoming.
Our vehicle protection experts can provide you with the best product options. Read more about our product options below and give us a call or stop by!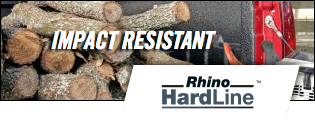 Resistant to impact, abrasion, corrosion and chemicals. Ideal for truck beds, bedliners, floor boards, wheel wells, rocker panels, commercial vehicles, trailers and more!
more info
RHINO HARDLINE
Best for:
Truck beds, floor boards, wheel wells, rocker panels, etc.
Construction hauling uses
Easy slide of cargo in and out for large jobs
Commercial vehicles
Trailers
Agriculture and industrial vehicle applications
HardLine®, Rhino Linings Corporation's hardest truck bed lining yet, gives you a great truck bed for a great value! This lining is best for those applications with heavy impact and scratching. HardLine™ is strong and great-looking, and it provides protection at a tremendous value. It's major features includes superior impact and compression resistance. What that means to your truck is very heavy loads won't worry this lining! Rhino HardLine can be applied to consumer and commercial vehicles, heavy equipment and machinery, flooring, loading ramps and more.
Technical Data:
Professionally sprayed-on polyurethane - polyurea elastomer
A flexible and tenacious bond to metal, fiberglass and wood surfaces
Remains flexible from -40º to 190º F
Excellent abrasion and chemical resistance
Coating thickness varies
The seamless membrane can be lightly used immediately
Why choose Hardline® coating:
Dries to the touch in seconds
Full, unrestricted use in 24 hours or less
Excellent impact resistance
Good abrasion resistance
Excellent corrosion resistance
Very good chemical resistance
Reduces noise from vibration and impact
Economical solution
Custom colors available
Environmentally Friendly Spray On Bedliner:
RHINO LININGS is 100% solids by weight and volume
NO solvents
NO VOCs
back to top
NATIONWIDE WARRANTY
The nationwide warranty program reinforces Rhino Linings reputation for producing the longest lasting, most durable sprayed-on linings in the world.
"Rhino Linings® dealers have always stood behind their service and craftsmanship," says Pierre Gagnon, president and CEO of Rhino Linings USA." However, the Nationwide Limited Lifetime Warranty program provides additional customer peace of mind when choosing Rhino Linings."
With the new Nationwide Limited Lifetime Warranty Program, the entire North American Rhino dealer network is offering consumers a uniform warranty.
Nationwide coverage for your truck bed liner
Bed liners are warranted to not crack, bubble or peel
Coverage lasts as long as you own your truck
The warranty includes provisions for customers that may move to a new area and require dealer support. The Rhino Linings warranty is only available to the original Rhino Linings purchaser and is not transferable.
Warranty subject to restrictions and limitations.
back to top
RHINO LININGS PRODUCT FAQs
How long does application take?

A professionally installed Rhino Linings® spray-on truck bed liner application typically takes about 3 hours. You can normally drop it off in the morning and pick up the same day - call for exact details.

Does Rhino Linings® protective coating come in colors?

Yes, Rhino Linings protective coating can be sprayed in virtually any color you'd like. We can even custom pigment to match your color specifications. For maximum UV protection and long-lasting color, we recommend our SolarMax® product, which has the color built right into the chemistry. Contact your local applicator to learn more about colored truck bed liner applications.

What other applications can Rhino Linings® protective coating be used for?

Rhino Linings products can be applied to virtually any properly prepared surface for durable and long-lasting protection. Grille guards and bumpers, rocker panels, fender flares, floor wells, boat decks and boat hulls are just some examples. Rhino Linings products can also be used on trailers, ATVs, tractors, watercraft and anything else that will benefit from outstanding protection and corrosion resistance.

Is Rhino Linings® protective coating environmentally friendly?

Yes. Rhino Linings truck bed liner products have no VOCs (no possible health hazards) or CFCs (which can damage the ozone layer).

Will the lining hold up in rugged conditions and temperature extremes of Wyoming?

Yes. Rhino Linings® spray on lining products are specifically engineered not to warp, crack, peel or split due to weather or other environmental factors. Our spray-on liners are engineered to withstand the severe cold of Alaska to the intense heat of Arizona, (temperatures between -40 degrees F and 190 degrees F). Unlike plastic drop-in liners or other spray-on liners, Rhino Linings products are formulated to withstand heavy-duty use while offering superior abrasion and corrosion resistance.
For more FAQs, go to the Rhino Linings site, click here!
back to top
THE RHINO ADVANTAGE
Rhino Linings... The World Leader in Sprayed-On Truck Bed Liners - and the Brand Most Often Asked for by Name!
Rhino Linings is the global leader in sprayed-on truck bed liner protection, while providing lasting solutions for a wide range of commercial and military applications. In North America, Rhino Linings provides the broadest selection of sprayed-on truck bed liners, including HardLine, TuffGrip and SolarMax. All are backed by a Nationwide Lifetime Warranty. Unlike plastic drop-in bed liners or most other sprayed-on applications, a professionally installed Rhino Linings bed liner will not rip, crack or tear.
Rhino Linings also provides the highest levels of corrosion resistance, not just for trucks but for a wide range of other accessories and vehicles... grille guards, bumpers and rockers, as well as trailers, tractors and ATVs.
Proven Protection in Millions of Truck Beds!
Rhino Linings sprayed-on bed liners are constantly tested for strength and protection, both in our engineering laboratories and in real-world conditions. In fact more than 2 million pickups on the road today are protected with our Rhino tough protection. So for the best in the business - guaranteed - contact your nearest Rhino Linings Dealer today!
Guaranteed Protection in Just Hours!
Unlike other sprayed-on bed liner companies, Rhino Linings has three distinct bed liner products so truck owners can match an application to their specific needs. The bed liner surface dries to the touch in seconds, and is ready for full use in about 24 hours. With a pre-scheduled appointment, a Rhino Linings application takes only a few hours, including bed preparation, masking and spraying.
You're in and out the same day, with your vehicle ready to take on the most extreme use! So add a Rhino Linings today. It's one of the best things you can do to preserve and protect your hard-working truck!
More Info - Dealer Website